LIBRARIANSHIP STUDIES TESTIMONIALS
Librarianship Studies & Information Technology is the best award-winning and internationally acclaimed Library and Information Science blog for libraries and librarians. Know more about Librarianship Studies & Information Technology.
Here is a description of feedback, testimonials, awards, and reviews of Librarianship Studies & Information Technology blog received from users all over the world. Some are summarized below, along with discussion about and links to Librarianship Studies & Information Technology blog.
Please provide us your valuable feedback in the Guest Book on Contact Us page to make Librarianship Studies & Information Technology blog a better place for information on Library and Information Science and Information Technology related to libraries.
---
Librarianship Studies Testimonials via E-mail and Guest Book

Librarianship Studies Testimonials on Twitter

Librarianship Studies Testimonials on Facebook

Librarianship Studies Testimonials on LinkedIn

Librarianship Studies Testimonials on Google+

Articles on Librarianship Studies in Journals and Books

Librarianship Studies Citations in Journals and Books

Librarianship Studies Links & Reference in Websites Blogs Etc.

Awards Won by Librarianship Studies
Michael F. Bemis
,
Reference Librarian and Writer - Washington County Public Library, Woodbury, Minnesota, USA
[May 2015, posted on
Guest Book
] -- I wanted to compliment you on your annotated bibliography entitled "Information Access Through the Subject." I recently became aware of your work through a notice on LinkedIn, of which I am a member. It is clear that you have put much time and effort into creating this well-researched document.
I also would like to extend my congratulations on a very well designed and user-friendly website, namely, "Librarianship Studies & Information Technology." I discovered this site while searching for your previously mentioned bibliography.
Sally Robertson
,
Serials, Cataloger, Reference Librarian at Nashville State Community College, Nashville, Tennessee, United States
[July 4, 2015, e-mail] -- I am adding your excellent blog to MERLOT.org ... ...
Ron Krate
,
Founding Head, International Professors Project, UN Visiting Scholar, Vermont, United States
[December 25, 2015, e-mail and
LinkedIn
] -- Thanks for your many highly useful contributions Salman!
José Antonio Carrillo,
University of Salamanca, Spain
[March 8, 2016, e-mail] -- Dear Salman, My name is José Antonio Carrillo, I am doing a master's in Translation and Intercultural Mediation at the University of Salamanca (Spain), and am the manager of a translation project conducted within the university. All members of the project group are students, at master's and undergraduate level. My colleagues and I need to translate contents from different blogs and journals into Spanish to post them on ExperimenTRADO, a website for academic purposes:
http://diarium.usal.es/experimentrado/
.This website is run by some professors at the University of Salamanca and it concerns topics such as library science, library studies, information science and technology. We have found many interesting articles on your website that would be ideal translation material since they perfectly suit our blog's points of interest. Let me remind you that our blog is not profit oriented. The initiative has a twofold purpose: to spread library-related articles and to give students the opportunity to translate in a professional work environment. I am, therefore, requesting permission to translate some of the contents of the website you run to include them in the blog
ExperimenTRADO
. After being translated, we would include the link to the original website and the name of the author. Let me know if you might agree with the terms as described above. I would be very grateful for your permission. If you require any additional information, do not hesitate to contact me. Sincerely, José Antonio Carrillo
Sally C. Tseng
,
Former Librarian, University of California, Irvine United States
[March 14, 2016, e-mail in
AUTOCAT
] Hello Salman, Thank you very much for sharing these informative links. Your time and hard work are a real contribution to librarianship!
Sandra K. Roe
,
Librarian, Illinois State University, Editor, Cataloging & Classification Quarterly
[July 17, 2016, e-mail for the article
Library and Information Science Dissertations and Theses
] -- Wow. This is an amazing compilation, complete with search instructions - and such a great idea to solicit other sources from the community. Brilliant!
Jayaram Haravu (or L. J. Haravu)
,
Managing Trustee at Kesavan Institute of Information and Knowledge Management (KIIKM) and Pioneer of Open Source Library Software movement in India, creator of NewGenLib (www.newgenlib.com) integrated library system
, [April 3, 2017, E-mail in LIS-Forum, PCCLIST, AUTOCAT on article
Library and Information Science Videos
and
Resource Description & Access (RDA)
blog] -- I congratulate Salman Haider for bringing to our notice this excellent initiative. I am sure this will be an invaluable source to teachers and students of librarianship and information studies. I have been a silent observer and admirer of your commitment to de-mystifying RDA for several years now. What you are doing is most commendable. I wonder, though, how many have taken advantage of your knowledge.
Deepshikha Sen,
Research Scholar, India
[May 5, 2017, posted in
Guest Book
] -- "Hello Sir, Wow...Yes, only this word is I left with to say about this blog. So enriched and updated. My search for an effective LIS blog came to an end through your blog. Hope I can clear my Net Exam this time with the help of your updates. Wish me luck! Anyways, Kudos to you sir for such an impressive blog.
Prof. Wajih A. Alvi,
X Professor, University of Kashmir, X Professor under UNDP in Ethiopia, X University Librarian, IUST, Kashmir
[April 4, 2018, e-mail] -- Dear Salman Haider Saheb, Ya, of course, we have not met, but your slices of information on various facets of LIS do disclose your professional commitment and competencies every now and then. I appreciate a great deal. Your message regarding LCC too was quite comprehensive ... ... ...
— Lyndelle Gunton (@lyndelleg) May 18, 2015
— CSU Library (@CSU_Library) February 3, 2016
— PeterDuffield-Fuller (@PeterDuffield1) October 17, 2017
Prof. P. B. Mangla
,
Former Professor, University of Delhi, Department of Library and Information Science, Tagore National Fellow, Government of India, Unesco Consultant, and Vice- President, International Federation of Library Associations and Institutions (IFLA ; The Hague ; 1985-1991)
[December 25, 2017] -- You deserve all praise for the professional contributions you are making through this blog. Congratulations indeed.
Dr. N. S. Harinarayana
,
Associate Professor, Department of Library and Information Science, University of Mysore, Mysore, India
[July 3, 2016] -- Congrats for publishing the glossary. The glossary, I hope, benefits the students, teachers and researchers.
[2015-05]
[2015-05]
[2015-05]
[2015-07]
Pannala Ramachandra Reddy
,
Librarian at KVS, Hyderabad, India
[August 22, 2016] -- The very good blog I have seen for librarianship ... Informative one ...
Victoria Frâncu,
Librarian at Central University Library of Bucharest, Bucharest, Romania
[In LinkedIn Group - Information Science and LIS on the article
Problems of Natural Language in Indexing
, March 23, 2017] -- I really enjoyed reading this article which I find interesting and informative for the problems it presents. I particularly appreciated the way the syntax and semantic relationships are explained and illustrated.
Roger Hawcroft,
Library Consultant & Social Justice Activist, Queensland, Australia
[October 4, 2015, posted in LinkedIn Group Collaborative Librarians International on
Information Access Through The Subject
] -- This is an excellent work with a relatively unique perpective. I am surprised it hasn't had greater attention and I would certainly recommend it to all those interested in the vaguaries and complexities of achieving better access to materials than many traditional approaches have provided.
N V Sathyanarayana, CMD, Informatics (India) Ltd., [March 18, 2016, LinkedIn Group Special Libraries Association] -- Congratulations! Salman for your valuable and painstaking compilation. I went through your blog. It is both fun and rewarding to browse. I enjoyed browsing through your blog assimilating interesting facts about the world of librarianship that is struggling to evolve as Information Science in a new and fast changing competitive world of ICT.
Kamlesh Vyas -- Sir: Really nice and very useful resource.
Ravindra N. Sharma, Dean of Library (Retired), India [April 2018, On the article Library and Information Science History On This Day] -- Excellent summary of events in the history of the library and information science. Will be very helpful to all librarians and information science professionals interested in learning more about the profession and the Library of Congress.
ARTICLES ON LIBRARIANSHIP STUDIES BLOG
An article on Librarianship Studies & Information Technology blog, published in Technical Services Quarterly, a journal of library technical services published by Routledge (Taylor & Francis Online).
Tech Services on the Web. Librarianship Studies & Information Technology blog. http://librarianshipstudies.blogspot. com
LIBRARIANSHIP STUDIES CITATIONS
LINKS & REFERENCE IN WEBSITES BLOGS ETC.
Universities / Colleges / Library Science & I-Schools / Libraries
Associations / Networks / Special Interest Groups
Books / Articles / Presentations / Videos
Internet / Web Archives & Directories
Mailing Lists / Forums / Groups
AUTOCAT

PCC LIST

LIS-FORUM

And many other online mailing lists, groups, forums, and communities.
AWARDS WON BY LIBRARIANSHIP STUDIES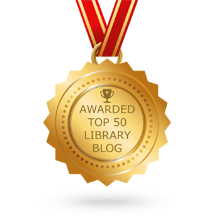 Top 50 Librarian and Library Blogs and Websites for Librarians are ranked based on following criteria.
Google reputation and Google search ranking
Influence and popularity on Facebook, Twitter, and other social media sites
Quality and consistency of posts.
Feedspot's editorial team and expert review