Librarianship Studies & Information Technology
is the best award-winning and internationally acclaimed Library and Information Science blog for libraries, librarians, catalogers, i-School Master of Library and Information Science (MLIS) and Ph.D. students, researchers, and LIS professionals. Whether you are studying, doing research, or a working professional, this is the place for you... Free for everyone Forever... Our mission is to provide a free, world‑class education in library and information sciences for anyone, anywhere.
The purpose of
Librarianship Studies & Information Technology
is to provide leadership for the development, promotion, and improvement of library and information services and the profession of librarianship in order to enhance learning and ensure access to information for all.
Librarianship Studies & Information Technology
blog is envisioned as the Britannica, The Huffington Post, Khan Academy, and more closely like the
Encyclopedia of Library and Information Sciences
; an authoritative source for consultation and reference for any library or information profession related issue and a treasure hub of knowledge on library and information science, which is open and free for all the library professionals worldwide.
Librarianship Studies
will be providing in-depth articles on Library Technical Processing and information access through the subject with special reference to the solutions to library cataloging, metadata, and classification problems using Resource Description and Access (RDA), Anglo-American Cataloguing Rules (AACR2), MARC21, Dewey Decimal Classification (DDC), Library of Congress Classification (LCC), Library of Congress Subject Headings (LCSH), FRBR, FRAD, FRSAD, BIBFRAME, etc. by use of tools such as RDA Toolkit, Classification Web, WebDewey, Classification & Shelflisting Manual (CSM), and Subject Headings Manual (SHM).
Librarianship Studies & Information Technology
blog articles are appreciated and referred by reputable corporate bodies such as University of Basel, Switzerland, University of Salamanca, Spain, Institut de l'information scientifique et technique (English: Institute of Scientific and Technical Information), French National Centre for Scientific Research, France, MERLOT - the Multimedia Educational Resource for Learning Online and Teaching, California, United States, Sage Library System, Oregon, United States, American Library Association, Agricultural Information Management Standards (AIMS), Food and Food and Agriculture Organization (FAO) of the United Nations, Italy.
Librarianship Studies Contributors

Librarianship Studies Pages

Librarianship Studies Search

Librarianship Studies Categories/Labels - Hot Topics

Librarianship Studies in Social Media

Librarianship Studies Milestones and Notes

Librarianship Studies Copyright

Librarianship Studies Disclaimer

Librarianship Studies Testimonials
LIBRARIANSHIP STUDIES CONTRIBUTORS
Brief profiles of Librarianship Studies contributors are given below. If you wish to write in the
Librarianship Studies & Information Technology
blog, then please see our post:
Write for Librarianship Studies - Guidelines for Authors
Salman Haider (Founder/Editor/Contributor): Salman Haider is an award-winning visionary librarian, cataloger, author and blogger with 13 years' work experience. He is the founder of Librarianship Studies & Information Technology, a blog on library and information science. He previously worked at the Indian School of Business, National Library of India, and Central Reference Library of India. Coming from a computer science background, Salman has functional expertise in Resource Description and Access (RDA), AACR2, MARC-21, Library of Congress Classification, and Library of Congress Subject Headings. Salman Haider is a contributor to Wikipedia and Encyclopaedia Britannica. He is the creator of eight blogs on library and information science. Salman Haider has written two books and published four articles in addition to 500+ articles which he has written in his LIS blogs. His book Survey of Emerging Cataloging Practices: Use of RDA by Academic Libraries was nominated for an American Library Association "Outstanding Publication Award" in 2017. His works are in the collection of prestigious universities and libraries such as Harvard University Library, University of Chicago Library, George Washington University, and University of California, San Francisco in the United States, British Library, London and National Library of Scotland in the United Kingdom, McGill University Library, Montreal, University of Ottawa, and University of Saskatchewan Library in Canada, State Library of New South Wales in Australia, and Tilburg University Library, Universiteit van Tilburg, Netherlands, and Bibliothèque Cantonale et Universitaire, Switzerland. Salman graduated in Science with specialties in Computer Science, Mathematics, and Statistics from Lucknow University and completed his Master of Library and Information Science (MLIS) from Aligarh Muslim University with a First Class securing IInd Rank and the prestigious P.N. Kaula-S. Bashiruddin Gold Medal. He also achieved the Undergraduate Merit Scholarship and the Postgraduate Merit Scholarship in B.L.I.S. and M.L.I.S., respectively, for meritorious academic performance. Know More
P. B. Mangla (Contributor): Prof. P. B. Mangla (Pramod Bhushan Mangla) is a legendary scholar and authority in the field of Library Science in India. He served the University of Delhi for almost four decades as an outstanding teacher out of which 29 years as a Professor of Library & Information Science. He has a distinction of being the first and youngest Professor of LIS in India, being appointed as a full-fledged Professor at the age of 36. At the University of Delhi, he was a student of Dr. S.R. Ranganathan, father of library science and library movement in India. Incidentally, Dr. Ranganathan was one of the experts in the interview panel when Prof. Mangla was selected as a reader in library science in Delhi University. Prof. Mangla has a vast experience of educational administration and policy matters at different levels, both in India and abroad. He was President, Indian Library Association (1981-1983); and Vice- President, IFLA (The Hague) (1985-1991). He has delivered prestigious Lectures in India and abroad and has been honored with Awards, Citations etc., nationally and internationally. In 2003 he was invited by the UNO to be one of the 5 Speakers from different parts of the world for a Conference held at the UNO Headquarters, New York. He was honored with Fellowship by the Indian Library Association (FILA) in 1983 and Membership, the Institute of Information Scientists (M.I. Inf. Sc.) London in 1979. Professor Mangla was a Tagore National Fellow under the Government of India, Ministry of Culture from December 2010 to November 2012. Know More
R. K. Sharma (Contributor): Dr. R.K. Sharma is currently working as Librarian in the United Nations Information Centre for India and Bhutan (UNIC) for the past 21 years. He is a knowledge management expert and focal point for providing information support on the UN and global contemporary issues to the public at large. A practicing librarian for over 35 years, he holds a Ph.D. degree in Library & Information Science and has undergone several advanced training programmes in Library & Information Management in India and abroad. Prior to the UN, he was Librarian at National Institute of Public Finance and Policy (NIPFP), Ministry of Finance, New Delhi. Earlier, he had worked with the Delhi University Library System before joining NIPFP. He is widely traveled and as a Fulbright Scholar (1993), he was trained at the Graduate School of Library & Information Science, Simmons College, Boston, USA. Besides his present positions, he is also a member of the editorial advisory board of two professional journals -Library Herald and Gyan Kosh and has served as an Associate Editor of the DLA's quarterly journal Library Herald (2008-2012). He was Chair – Editorial Board, Asian Chapter of Special Library Association (SLA-USA) for one year (2013). Dr. Sharma is a member/life member of various national and international professional associations like AMLA, ASIALA, DLA, ILA, MANLIBNET, SLP, SLA (USA)- Asian Chapter. As an active senior professional, he has served on many selection committees as a library expert. He has organized several seminars, conferences, and workshops and chaired several technical sessions at the national and international seminars, conferences and workshops. Dr. Sharma has contributed a number of research papers in refereed journals and edited many books. His interests are library & information management, computerization of library information services, web-based library services.
Christopher Girgenti (Contributor): Christopher Girgenti, MLIS is a Library Specialist at Winthrop University (Rock Hill, South Carolina, United States) where he maintains the print and electronic serials catalog. His interest in cataloging began while working as a technical services student employee during his master's degree, which he recently obtained from The University of North Carolina at Greensboro. While pursuing the MLIS degree, Christopher was active in the School of Music and took courses in music theory and ethnomusicology. With his extensive background in music, Christopher hopes to someday become a music librarian.
LIBRARIANSHIP STUDIES PAGES
Librarianship Studies & Information Technology pages describe some broad areas of Library and Information Science and Information Technology and the scope of LS & IT Blog in some category or label which is given in the left column of the blog. These pages are there in the top four rows of the blog and some are there at the bottom of the blog. These Pages now provide the contents into three heads, viz. (1) Summary of Important Articles (2) List of All Articles (3) List of Quizzes
LIBRARIANSHIP STUDIES SEARCH
A search box is located in the column located at the right hand side of the blog. Place your query here to search the contents of the blog.
LIBRARIANSHIP STUDIES CATEGORIES (LABELS) - HOT TOPICS
Librarianship Studies & Information Technology
is divided into following broad categories (or labels). Categories are listed in the top left side column of the blog. These categories or labels group blog posts on a specific topic of library & information science.
ACQUISITION [SCOPE: On acquisitions or books, serials, e-resources, etc. in libraries in information centers. Collection Development--Books, Serials, Non-book Materials--Selection, Acquisition, Maintenance; ISBN, ISSN, Cataloguing-in-Publication (CIP), E-documents, E-books, E-journals, Etc.]
CATALOGING [SCOPE: On cataloging and metadata. Library Cataloguing Codes--RDA and AACR-II. Library Cataloguing--Cannons and Principles. Bibliographic Records--International Standards--ISBD, MARC21, BIBFRAME, and CCF. Etc. Indexing--Pre-coordinate, Post-coordinate.]
CIRCULATION [SCOPE: Library circulation and loan activities. Types of Users, User Studies, User Education.]
CLASSIFICATION [SCOPE: Theory and practice of library classification and shelflisting. Classification schemes like the Dewey Decimal Classification (DDC), Library of Congress Classification (LCC), Universal Decimal Classification (UDC), and Colon Classification (CC). Organization of knowledge/Information. Modes of formation of subjects. Library Classification--Cannon and Principles.]
EDUCATION [SCOPE LIS Education. Study programs of top-ranked library schools or i-schools. Tutorial by noted professors of library and information science.]
LIBRARIANSHIP [SCOPE: History, practice, and techniques of librarianship. Description of library and information science. Library and Information Profession.]
LIBRARIES [SCOPE: Libraries and Associations. Famous and beautiful libraries the Library of Congress of Washington D.C., the British Library of London, and the Bodleian Library of Oxford. Library associations such as IFLA, ALA, and CILIP. Types of Libraries--National, Public, Academic, and Special (Objectives, structures, and functions). Impact of libraries on society. Role of Information in Planning, Management, Socio-Economic Development, Technology transfer. Etc.]
LISTS [SCOPE: List of sources or Librarian's Reference Directory (or Librarians Reference Sources Directory) is a web directory of Library and Information Science reference sources on the World Wide Web.]
MANAGEMENT [SCOPE: Library and Knowledge Management. Theory, practice, and techniques of library and knowledge management. Management--Principles, Functions, School of Thought. Planning, Organization Structure, Decision making. Human Resources Management--Manpower Planning, Job Analysis, Job Description, Selection, Recruitment, Motivation, Training and Development, Staff Manual, Leadership and Performance Evaluation. Financial Management--Resource Generation, Types of Budgeting, Cost and Cost Benefit Analysis. PERT, CPM. Library Buildings and Equipment, Performance Evaluation of Libraries/Information Centers and Services Marketing Information Product and Services, Total Quality Management (TQM).]
MISCELLANEA [SCOPE: Miscellaneous topics in library and information science not covered by other Librarianship Studies blog labels.]
NEWS [SCOPE: Library and Information Science News. Latest news in the library and information science.]
PERSONALITY [SCOPE: Personality Development, Personal Development, Self Improvement.]
QUIZZES [SCOPE: LIS Quiz. Library and Information Science Questions and Answers]
REFERENCE [SCOPE: Reference sources and services in libraries and information centers. Reference and Information Services, Referral Service. Bibliographic Service, Indexing and Abstracting Service, CAS, SDI, Digest Service, Trend Report Online Services, Translation Services, Reprographic Services Etc.]
RESEARCH [SCOPE: On research methodology in the library and information science. Types of Research--Basic, Applied, Interdisciplinary. Research Design. Scientific Method, Hypothesis, Data Collection, Sampling. Methods of Research--Historical, Descriptive, Case Study, Survey, Comparative and Experimental. Statistical Methods, Data Analysis. Report Writing, Bibliometrics. Etc.]
SUBJECT [SCOPE: Subject Cataloging of library resources. About subject headings. Library of Congress Subject Headings (LCSH), MESH, Sears List of Subject Headings etc. Vocabulary Control--Thesaurus, List of Subject Headings, Etc.]
TECHNOLOGY [SCOPE: Use of technology in libraries. Databases--Search Strategies, Boolean Operators. Information Technology--Components; Impact of IT on Society. Computers--Hardware, Software, Storage Devices, Input/Output Devices. Networking--Concepts, Topologies, Types--LAN, MAN, WAN. Library Automation--Areas of automation, Planning, Hardware, and Software Selection, OPAC. Integrated Library Systems, Digital Libraries, Virtual Libraries, Etc.]
LIBRARIANSHIP STUDIES IN SOCIAL MEDIA
Google+ Community: Join the companion online Google+ Community Librarianship Studies & Information Technology, a place where people can get together to share ideas, trade tips and tricks, and learn about Library & Information Science and Information Technology
Facebook Group: Join the companion Facebook Group Librarianship Studies & Information Technology, a place where people can get together to share ideas, trade tips and tricks, and learn about Library & Information Science and Information Technology
Twitter: The posts of Librarianship Studies & Information Technology are also available on Twitter
Flipboard: The posts of Librarianship Studies & Information Technology are also available on Flipboard
Pinterest: The posts of Librarianship Studies & Information Technology are also available on Pinterest
YouTube: Librarianship Studies & Information Technology on YouTube channel Librarianship Studies & Information Technology. This YouTube channel provides a wealth of information on library and information science in an interesting form of videos. In this channel "Playlists" are created based on the "Categories (Labels)" of Librarianship Studies blog. For instance, biographies of famous librarians are placed in the Playlist "Librarians & Librarianship" which is also a named Category (Label) in the blog.
LinkedIn: Librarianship Studies & Information Technology on LinkedIn.
LIBRARIANSHIP STUDIES MILESTONES AND NOTES
On July 8, 2018, Librarianship Studies & Information Technology blog moved to a custom domain. The previous URL of the blog was https://librarianshipstudies.blogspot.com which was then changed to www.librarianshipstudies.com.
Please note that Librarianship Studies & Information Technology blog loads fastest and is best viewed in Google's Chrome web browser.
LIBRARIANSHIP STUDIES COPYRIGHT
Copyright ©2014-2018 Salman Haider. All rights reserved. Designed and developed by Salman Haider.
This site may be freely linked to but not duplicated in any fashion without the consent of the creator.
Librarianship Studies & Information Technology blog encourages the use of its material provided that it is acknowledged and kept informed in all such instances.
LIBRARIANSHIP STUDIES DISCLAIMER
All data and information provided on Librarianship Studies & Information Technology blog are for informational purposes only. Librarianship Studies & Information Technology Blog makes every effort to ensure but does not guarantee, the accuracy of the information on its website. Hyperlinks to other web sites imply neither responsibility for, nor approval of, the information contained in those other websites on the part of this blog. It is a personal blog, the opinions expressed in Librarianship Studies & Information Technology Blog represent my own and not those of my employer.
LIBRARIANSHIP STUDIES TESTIMONIALS
Here is a description of feedback, testimonials, awards, and reviews of Librarianship Studies & Information Technology blog received from users all over the world. Some are summarized below, along with a discussion about and links to Librarianship Studies & Information Technology blog.
Please provide us your valuable feedback in the
Guest Book on Contact Us
page to make Librarianship Studies & Information Technology blog a better place for information on Library and Information Science and Information Technology related to libraries.
Michael F. Bemis, Reference Librarian and Writer - Washington County Public Library, Woodbury, Minnesota, USA [May 2015, posted on Guest Book] -- I wanted to compliment you on your annotated bibliography entitled "Information Access Through the Subject." I recently became aware of your work through a notice on LinkedIn, of which I am a member. It is clear that you have put much time and effort into creating this well-researched document. I also would like to extend my congratulations on a very well designed and user-friendly website, namely, "Librarianship Studies & Information Technology." I discovered this site while searching for your previously mentioned bibliography.
Sally Robertson,
Serials, Cataloger, Reference Librarian at Nashville State Community College, Nashville, Tennessee, United States
[July 4, 2015, e-mail] -- I am adding your excellent blog to MERLOT.org ... ...
Ron Krate,
Founding Head, International Professors Project, UN Visiting Scholar, Vermont, United States
[December 25, 2015, e-mail and LinkedIn] -- Thanks for your many highly useful contributions Salman!
José Antonio Carrillo,
University of Salamanca, Spain
[March 8, 2016, e-mail] -- Dear Salman, My name is José Antonio Carrillo, I am doing a master's in Translation and Intercultural Mediation at the University of Salamanca (Spain), and am the manager of a translation project conducted within the university. All members of the project group are students, at master's and undergraduate level. My colleagues and I need to translate contents from different blogs and journals into Spanish to post them on ExperimenTRADO, a website for academic purposes:
http://diarium.usal.es/experimentrado/
.This website is run by some professors at the University of Salamanca and it concerns topics such as library science, library studies, information science and technology. We have found many interesting articles on your website that would be ideal translation material since they perfectly suit our blog's points of interest. Let me remind you that our blog is not profit oriented. The initiative has a twofold purpose: to spread library-related articles and to give students the opportunity to translate in a professional work environment. I am, therefore, requesting permission to translate some of the contents of the website you run to include them in the blog
ExperimenTRADO
. After being translated, we would include the link to the original website and the name of the author. Let me know if you might agree with the terms as described above. I would be very grateful for your permission. If you require any additional information, do not hesitate to contact me. Sincerely, José Antonio Carrillo
Sally C. Tseng,
Former Librarian, University of California, Irvine United States
[March 14, 2016, e-mail in AUTOCAT] Hello Salman, Thank you very much for sharing these informative links. Your time and hard work are a real contribution to librarianship!
Sandra K. Roe,
Librarian, Illinois State University, Editor, Cataloging & Classification Quarterly
[July 17, 2016, e-mail for the article
Library and Information Science Dissertations and Theses
] -- Wow. This is an amazing compilation, complete with search instructions - and such a great idea to solicit other sources from the community. Brilliant!
Jayaram Haravu (or L. J. Haravu),
Managing Trustee at Kesavan Institute of Information and Knowledge Management (KIIKM) and Pioneer of Open Source Library Software movement in India, creator of NewGenLib (www.newgenlib.com) integrated library system
, [April 3, 2017, E-mail in LIS-Forum, PCCLIST, AUTOCAT on article
Library and Information Science Videos
and Resource Description & Access (RDA) blog] -- I congratulate Salman Haider for bringing to our notice this excellent initiative. I am sure this will be an invaluable source to teachers and students of librarianship and information studies. I have been a silent observer and admirer of your commitment to de-mystifying RDA for several years now. What you are doing is most commendable. I wonder, though, how many have taken advantage of your knowledge.
Deepshikha Sen,
Research Scholar, India
[May 5, 2017, posted in Guest Book] -- "Hello Sir, Wow...Yes, only this word is I left with to say about this blog. So enriched and updated. My search for an effective LIS blog came to an end through your blog. Hope I can clear my Net Exam this time with the help of your updates. Wish me luck! Anyways, Kudos to you sir for such an impressive blog.
Prof. Wajih A. Alvi,
X Professor, University of Kashmir, X Professor under UNDP in Ethiopia, X University Librarian, IUST, Kashmir
[April 4, 2018, e-mail] -- Dear Salman Haider Saheb, Ya, of course, we have not met, but your slices of information on various facets of LIS do disclose your professional commitment and competencies every now and then. I appreciate a great deal. Your message regarding LCC too was quite comprehensive ... ... ...
Chandru Chandrappa,
Assistant Librarian & Library in-charge, Indian Maritime University, India
[September 6, 2018, e-mail] -- ... ... I have been following your blog since 2015 and I am inspired by the work you're updating in Cataloguing and Metadata. You had some wonderful insights that have been very useful for LIS community in India. I wanted to get in contact with you to learn more about the RDA, AACR2, BIBFRAME, MARC21, LCSH and SLSH ... ... ...
Twitter
— Lyndelle Gunton (@lyndelleg) May 18, 2015
— CSU Library (@CSU_Library) February 3, 2016
— PeterDuffield-Fuller (@PeterDuffield1) October 17, 2017
Petra @Princh Blog [November 11, 2018] -- Hello @metadataexpert. This is Petra, writer of the Princh Blog. I've been following your account on Twitter and Linkedin and I'd like to say I really enjoyed the slogan contest you've had running in the past few weeks. It's a great way to connect librarians worldwide ... ... ...
Facebook
Prof. P. B. Mangla, Former Professor, University of Delhi, Department of Library and Information Science, Tagore National Fellow, Government of India, Unesco Consultant, and Vice- President, International Federation of Library Associations and Institutions (IFLA ; The Hague ; 1985-1991) [December 25, 2017] -- You deserve all praise for the professional contributions you are making through this blog. Congratulations indeed.

Dr. N. S. Harinarayana, Associate Professor, Department of Library and Information Science, University of Mysore, Mysore, India [July 3, 2016] -- Congrats for publishing the glossary. The glossary, I hope, benefits the students, teachers, and researchers.


Michael Bemis, MLIS [2015-05] -- When fully fleshed out, this lexicon will serve as a valuable tool for all LIS professionals, but especially for librarians in training and those new to the field.
Scott Jones [2015-05] -- This is pretty cool. Wish something like this had existed a few years ago to help wrap my head around all the acronyms we had to learn in Library School.
Jennifer Closson [2015-05] -- Very useful for those still in graduate school, thanks!
Aslam Mehdi, Medical Librarian, AMU, India [2015-07] -- Very informative & nice blog. Salman, you have done magnificent work congratulations. Keep it up..
Pannala Ramachandra Reddy, Librarian at KVS, Hyderabad, India [August 22, 2016] -- The very good blog I have seen for librarianship ... Informative one ...
Victoria Frâncu,
Librarian at Central University Library of Bucharest, Bucharest, Romania
[In LinkedIn Group - Information Science and LIS on the article
Problems of Natural Language in Indexing
, March 23, 2017] -- I really enjoyed reading this article which I find interesting and informative for the problems it presents. I particularly appreciated the way the syntax and semantic relationships are explained and illustrated.
Roger Hawcroft,
Library Consultant & Social Justice Activist, Queensland, Australia
[October 4, 2015, posted in LinkedIn Group Collaborative Librarians International on
Information Access Through The Subject
] -- This is an excellent work with a relatively unique perpective. I am surprised it hasn't had greater attention and I would certainly recommend it to all those interested in the vaguaries and complexities of achieving better access to materials than many traditional approaches have provided.
N V Sathyanarayana, CMD, Informatics (India) Ltd., [March 18, 2016, LinkedIn Group Special Libraries Association] -- Congratulations! Salman for your valuable and painstaking compilation. I went through your blog. It is both fun and rewarding to browse. I enjoyed browsing through your blog assimilating interesting facts about the world of librarianship that is struggling to evolve as Information Science in a new and fast changing competitive world of ICT.
Kamlesh Vyas -- Sir: Really nice and very useful resource.
Ravindra N. Sharma, Dean of Library (Retired), India [April 2018, On the article Library and Information Science History On This Day] -- Excellent summary of events in the history of the library and information science. Will be very helpful to all librarians and information science professionals interested in learning more about the profession and the Library of Congress.
Articles on Librarianship Studies Blog
An article on Librarianship Studies & Information Technology blog, published in Technical Services Quarterly, a journal of library technical services published by Routledge (Taylor & Francis Online).
Tech Services on the Web. Librarianship Studies & Information Technology blog. http://librarianshipstudies.blogspot. com
Links & References in Websites, Blogs Etc.
Universities / Colleges / Library Science & I-Schools / Libraries
Associations / Networks / Special Interest Groups
Books / Articles / Presentations / Videos
Internet / Web Archives & Directories
Mailing Lists / Forums / Groups
AUTOCAT

PCC LIST

LIS-FORUM

And many other online mailing lists, groups, forums, and communities.
Awards Won by Librarianship Studies
Librarianship Studies & Information Technology Awarded Top 50 Library Blog
(
Main article: Librarianship Studies in Top 50 Library Blogs on the Web)
We would like to congratulate our readers as your blog
Librarianship Studies & Information Technology
has been awarded and selected as one of the Top 50 Library Librarian Blogs on the web. This is the most comprehensive list of Top 50 Library Blogs on the internet and we are honored to have our blog as part of this list which includes prestigious library blogs such as
Library Journal
, The New York Public Library blogs, and the
Harvard Library blog
.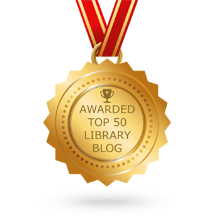 Top 50 Librarian and Library Blogs and Websites for Librarians are ranked based on following criteria.
Google reputation and Google search ranking
Influence and popularity on Facebook, Twitter, and other social media sites
Quality and consistency of posts.
Feedspot's editorial team and expert review